Control line tubes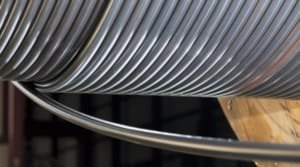 We offer control line and chemical injection line tubing in seamless or welded condition ranging from 3mm / 1/8" to 25mm / 1" OD with a variety of wall thicknesses. They are supplied in loose bulk wound coils or level wound wooden, plastic or metal spools.
Available alloys: 304L, 316L, 316Ti, 317L, Duplex, Super Duplex, 400, 600, 625, 825 and C276. These are used for numerous petrochemical applications, including:
Tubing for well casing:
Down hole tubes
Subsea umbilical's
Process constructions
General control system
Steam supply lines
Gas transport lines
Instrumentation
Down hole & umbilical tubing
Our long length seamless coils of up to 1.500 mtr (5.000 Ft) without orbital joints (depending on product dimensions) are used extensively for chemical injection and hydraulic control in subsea and offshore wells. The long length minimizes the number of welds which reduces the potential for weld-related defects and failures. Additionally, our coils have an extremely clean and smooth inner surface that is ideal for hydraulic and chemical injection systems. If required and with orbital welds, our coil lengths can reach up to 15.240 mtr. (50.000 Ft) level wound on one spool.
Encapsulated control line
MST Edelstahlrohr GmbH offers the encapsulation of control lines to provide increased durability as well as chemical and corrosion resistance to meet each project's special requirements. We offer different encapsulation types, such as: HDPE (High Density Polyethylene), Santoprene, PVC (Polyvinyl Chloride), Haylar and PVDF (Polyvinylidene Fluoride).