Capillary tubes
Precise dimensions, bright surface, cleaned and ready to use!
MST Edelstahlrohr offers a wide range of seamless capillary tubing, available in stainless steel, nickel alloys and titanium. The current stock is available in the following alloys, either annealed (hardness ‹ 180HV) or harddrawn (hardness 260-330 HV): 304, 304L, 321, 316, 316L, 316Ti, 310, 6Mo, 400, 825, C22, C276 and Titanium Grade 2.
The tolerances are according to EN10216-5 TC1/ISO 1127 D4/T3 or ASTM A 269/A 213, mostly closer. Our capillary tubes are characterized by tight tolerances with precise dimensional accuracy, smooths bright surfaces and cleaned, free from oil, grease and other particles. This ensures an optimized flow of liquids and gases for all kind of industrial applications.
Our stock range is from 0.30 mm OD and up! Available in thin, standard or heavy wall.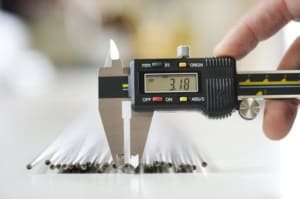 Hardness:
Bright annealed:
Yield strength 500 - 700 N/mm²
Halfhard:
Yield strength 700 - 800 N/mm²
Harddrawn:
Yield strength 800 - 900 N/mm²
Extra hard:
Yield strength >1000 N/mm²
Tolerances:
AD = + 0.05 mm & - 0.00 mm / + 0.002" & - 0.000"
ID = + 0.00 mm & - 0.05 mm / + 0.000" & - 0.002"
Lengths:
Single random of 3.5 to 6 meters.
Coils up to 1524 mtrs. long.
Cut to lengths on customer specification.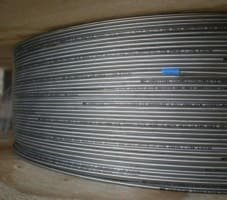 Industrial applications:
Gas lines
Measuring
Medical instruments
Sensors
Chromatography
Pyrometry
Manometry
Cardiology
Endoscopy
Liquid lines
Implants
General Industrial
Tube end possibilities
The point styles on needles and cannula can be used for a wide veriety of applications. MST Edelstahlrohr has the experience and capability to supply intricate parts to exact specifications.
On request we can also supply other dimensions respectively qualities, welded or welded redrawn; all according to the same conditions.